AARFP publishes a quarterly newsletter, Leisure Lines. This is a great publication that helps keep those in the Recreation Facility industry informed on the latest technologies and innovations in the industry. If you are not yet an AARFP member, please join today!
All current members with a valid email address on file at the RFP Office will be notified by email when the publication is available. If you have not received an email advising you of this, and you are a current member of RFP, please contact office@aarfp.com.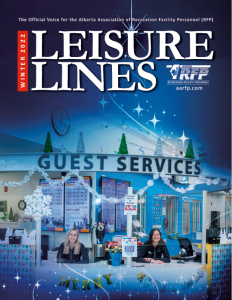 What's in the latest issue?
Melt Pit Water Good Enough to Drink
Keeping Aquatic Activities Affordable and Barrier Free
From Porta-Potties to Parkas
Customers and Experiences They Want
Building Maintenance – All About Air